I purchased my solar panels on the 6th June 2012 and had them installed on the 12th August 2012.  The 12th of August was the completion of the installation.  It was when Energex finally came to install the meter into the power box.  Yes, your calculations are correct, it was a Sunday when they did the install.  The reason for the Sunday install was because my installation just happen to coincide with the Queensland government notification that the feed in tariff would be going from 44 cents per kilowatt hour to 8 cents per kilowatt hour so the rush was on for everyone to install before the changeover and I happen to be caught in the middle of it all.
So, the system has now be operational for 85 days and I must say based on my calculations the system is working well and truly in my favor.  To this day I'm calculating a $342 payment in my favor.  No electricity costs but I nice payment for me from the electricity company.
I'm currently with AGL,  I get 10% off any electricity usage and my feed in tariff is 44 cents per kilowatt hour from the Queensland government plus 8 cents per kilowatt hour from AGL which is a total of 52 cents per kilowatt hour that I feed into the grid.  Now AGL could change their 8 cents to zero but the Queensland government is contracted to supply the 44 cents per kilowatt hour for another 16 years so that makes me happy.
Now the feed in tariff is a fixed amount meaning that it does not go up with inflation, so as the years pass and my cost per kilowatt hour increases the value of my feed in tariff decreases dependent on the increase per year.  I'm guesstimating by the year 2020 electricity prices will be around the 44 cents per kilowatt hour, meaning that my last 6 or so years of the system will not be in my favor, but having said that I should still be able to accomplish at a minimum neutral cost.
Over the last 85 days, I have experienced cloud, rain and clear skies, so my estimated figures should be reasonably accurate but I really won't know until I've had the system running for at least a year, but then I won't know if that year was a good your or a  bad year so for a more accurate measure 3 years of usage would be required to get a real feel.  Now the problem with this is that we have already seen the government change the rules on solar systems a number of times and you can only go by what the sales person is estimating as your return on investment, which we know will always seem good otherwise they will never be able to sell any products.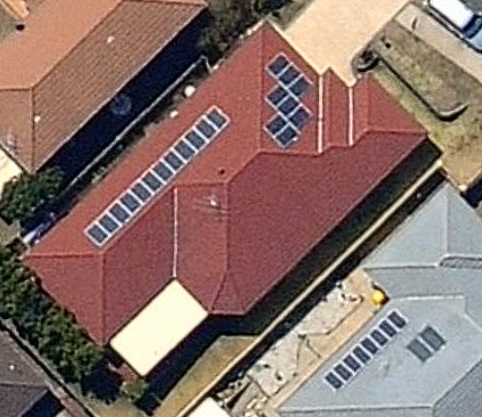 I have two systems installed.  I have a 2kW facing north east and a 3kW facing north west.  Based on the direction of the panels my system is loosing about 10% efficiency as they are not facing true north. My solar panels are 250 watts each.
I typically spend about $600 per quater with the  summer quater bill typically around the $700 mark, so that is an average of about $2500 per year on electricity costs.
With a $350 payment (income, tax free) per quarter and a $15,000 bill for the solar system that means a break even point of 4 years.  After the 4 year mark  I should then have a payment (incomce), tax free) of about $800 per year (which would reduce over time due to inflation) which would be decreased over the remaining period of the feed in tariff program.
Based on the figures above, I do believe that a solar system with a feed in tariff of at least 44 cents if viable.  I'm not sure how well it will now stack up as the current feed in tariff is only 8 cents per kilowatt hour and from what I have hear and read the government has the ability to change the feed in tariff rate to zero on new contracts.
By