When I just moved into my place at Springfield Lakes in January 2012 I rang Telstra to get Internet connected and they said it was unavailable, not enough ports available within my local DA (Distribution Area).  I'm on DA96 connected to the Goodna exchange.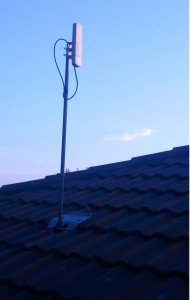 Anyhow, I was told to ring back in a month and check.  That was not acceptable.  I could not believe in this day and age that basic Internet access was not available to everyone, so I started to research my options.  I have a radio tower about 800 metres from me, direct line of sight so worst case scenario I could use 3G.  Another option I found was a private company called Puddlenet Communications that has filled the void of DSL with a 5 GHz wireless mesh network.
Once I found out about Puddlenet I looked further into it and then started looking at the homes in my area and I noticed that a lot of homes had 5 GHz directional antennas, so it was obvious that there were a lot of people in the same situation as me.  The only problem with Puddlenet was their plans, like 3G is expensive with limited data allowances.
So I got back onto Telstra and rang them up every second day.  It took me two weeks before they said I could get connected.  Someone in my area must have so I was lucky enough to get a connection.  To the right here is a picture of one of the antennas that people around here have.  I took this picture of my neighbours house.
You could image how slow ADSL1 is when you are use to at a minimum ADSL2+.  I'm happy to have ADSL2+ but I can't wait until the NBN is rolled out in this area.  The only reason I was able to get ADSL2 was because the NBN is not planned in my area for at least another 3 years so Telstra decided to upgrade this area as part of their Top Hat project.
Here are the results of my before and after speed tests along my with my modems synchronisation speeds.

One thing I will say about Telstra is that as soon as I saw the Top Hat spreadsheet from Telstra Wholesale say that my DA was upgraded I rang them that morning and within 1 hour my speed had changed.  Telstra did tell me that it would take 3-4 days for the change to take effect.  They were wrong there, but I'm happy about it.
By