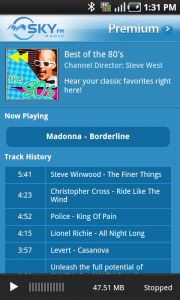 It's not very often I get impressed but I sure was impressed today.  I left our home at Redbank Plains at Ipswich today to head to Dicky Beach, Caloundra on the Sunshine Coast.  During this trip I decided to listed to an Internet radio station that I like to listen to.
To my amazment I was able to listen to the radion station with only three minor interuptions. 
The first was at Indooroopilly on the Western Freeway for about 10 to 15 secdons. 
The second was at the Redcliff turn off for about five seconds.
The final interruption was at the racecourse heading into Caloundra and that was only for about a second.
I'm with VirginMobile which uses the Optus network.  I was astounded that I was able to use the Internet all that way with only minor interruptions.
Another interesting fact is that I was on the road for one and a half hours and used up 47.5 MB of data.  Not bad at all at 64k using HE-ACC.  On the way home I'll try 96k MP3 and see how I go.
By